Swim Lessons Information 2018

Click here to download the 2018 Swim Lessons Registration Form!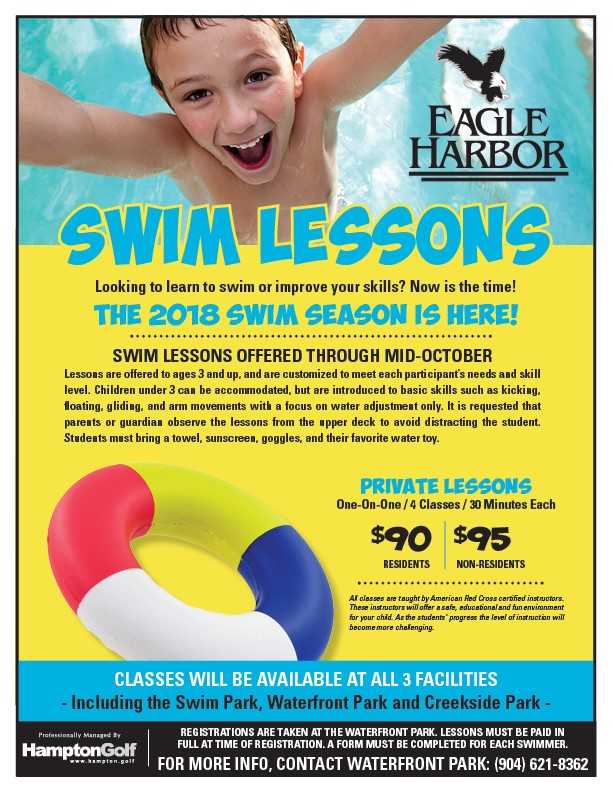 Make up policy
Classes cancelled for inclement weather or pool closures will be re-scheduled to accommodate the swimmer and instructor schedule. Classes must be re-scheduled within 48 hours.

Refund policy
Classes must be cancelled one week prior to the first scheduled lesson for a full refund. Refunds issued in case of illness require a doctor's notice. Refunds are not issued for a student's failure to attend a scheduled class.

Code of Conduct
All district, pool and facility rules must be obeyed. The swimmer must demonstrate respect and follow the instructions of the swim instructor. At any time the instructor reserves the right to dismiss the student for inappropriate behavior.

For more information contact the Waterfront Park at 621-8362.


Why Kids Should Swim

• Swimming is the most injury free of all children's sports
• Swimming is a sport that will bring children fitness and enjoyment for life
• Swimming enhances children's natural flexibility by exercising all of their major joints through a full range of motion.
• Swimming helps develop superior coordination because it requires combinations of complex movements of all parts of the body, enhancing harmonious muscle function, grace, and flexibility of movement.
• Swimming teaches the life lessons of sport and sportsmanship which include learning to deal with winning and losing, as well as working with officials, teammates and coaches.
• Swimming motivates participants to strive for self improvement and teaches goal orientation.
• Swimming cultivates a positive mental attitude and high self-esteem.
• Swimming can prevent drowning.