Holiday Light Parade 2014
Click on the picture to
view the entire album
Today's Events
Tomorrow's Events


Current Conditions:
Cloudy, 68 F
BOAT STORAGE AVAILABILITY


Eagle Harbor has convenient and affordable Boat and RV
storage available for Residents and Patrons and there is
currently no wait list! Please call 904-621-8363 for details.

Please note the following dining updates for December:
Thursday, December 18
Dinner with Santa is FULL.
The Clubhouse will be closing at 4 p.m.
Saturday, December 20
Breakfast with Santa is FULL.
We will close at 6 p.m. for a private party.
Tuesday, December 24
The Clubhouse will be closing at 2 p.m.
Wednesday, December 25
We will be closed all day. We will open regular hours
Thursday, December 26
Saturday, December 27
The Clubhouse will be closing at 3 p.m.
LOOKING FOR DINING INFORMATION?
FRIDAY NIGHT PUB HUB
Every Friday | 4-10 p.m. | Click here for details!
Check out our Weekly Trivia Night Menus!
Wednesdays | 6:30-8:30 | Click here!

RESIDENT SERVICES APPOINTMENTS
Are you a new resident/renter in Eagle Harbor OR are you moving within Eagle Harbor? Need a Passholder Membership? Looking for Boat or RV Storage or Golf Cart Registration? Click here to visit our resident services page for all the information you need!

Remember that all Resident Services requests require an appointment. Set up your appointment today by calling
Waterfront Park at 621-8362.

Another Successful Angel Tree!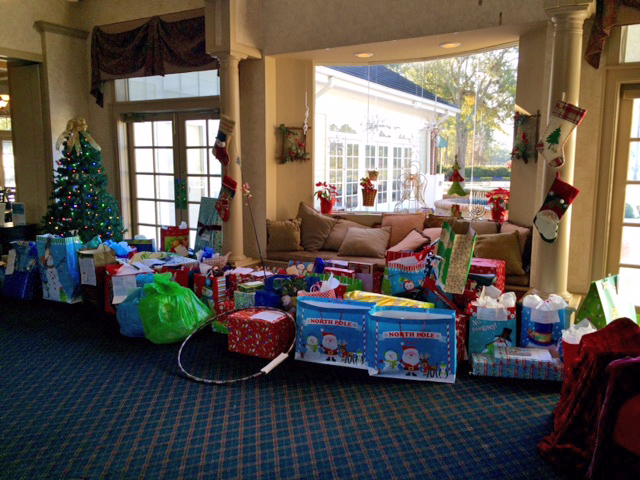 We appreciate all of you that made a special effort to make a child's holiday so much brighter this holiday season. You all made it possible for over 80 children to experience a very good Christmas morning. We can't thank you enough for your kindness and Generosity. Happy Holiday!
-The Recreation & Aquatics Department & The Kid's First of Florida
The 2014 Holiday Light Parade was bright and merry!
Click here to view pictures!
Congratulations to our Gingerbread House Competition Winners - The Pouncey Family!

We would like to thank all of our Gingerbread House participants, everyone enjoyed the display and it made our holiday event even more cheerful! We appreciate everyones creativity and holiday spirit!

Spaghetti Night
EVERY Tuesday!
5 - 8 p.m. | $5 | Talons

Click here for complete details!

DECEMBER NEWSLETTER
Click here to download!

___________________
UPCOMING EVENTS

To view a list of all Upcoming Events, click here!
___________________
RESIDENT GOLF RATES
Did you know that Eagle Harbor residents
get a discount on golf at the Club?

Monday - Sunday after 2 p.m.: $25+tax
(Not valid during tournaments or events.
Tee times are subject to availability.)

PUBLIC GOLF RATES
Monday-Thursday before 12pm: $39 +tax
Monday-Thursday from 12-3pm: $35 +tax

Monday-Thursday after 3pm: $29 +tax
Friday-Sunday & Golf Holidays before 12pm: $49 +tax
Friday-Sunday & Golf Holidays from 12-3 pm: $35 +tax
Friday-Sunday & Golf Holidays after 3 pm: $29 +tax
Call (904) 269-9300 to book your tee time!
___________________

EAGLE HARBOR IS NOW ON FACEBOOK & TWITTER!
"Like" and Follow our Official Pages Today!


__________________

STAY IN THE KNOW!
Want to know what's going on this month?
Click "
Calendar
" above! All of this month's special
events are highlighted in tan. Or, point your mouse
to Swim & Recreation > Upcoming Events!