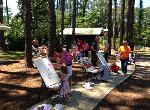 Toddler Painting Party
Click on the picture to
view the entire album
Today's Events
Tomorrow's Events


Current Conditions:
Partly Cloudy, 90 F
LOOKING FOR DINING INFORMATION?
FRIDAY NIGHT PUB HUB
Every Friday | 4-10 p.m. | Click here for details!
Check out our Weekly Trivia Night Menus!
Wednesdays | 6:30-8:30 | Click here!

RESIDENT SERVICES APPOINTMENTS
Are you a new resident? Need a Passholder
Membership? Looking for Boat or RV Storage or
Golf Cart Registration? Remember that all Resident
Services requests require an appointment. Set up your
appointment today by calling Haley McKinney at 637-0177
or e-mailing hmckinney@hamptongolfclubs.com.

Congratulations to the Eagle Harbor
team for winning the 17 Cup this year!
The 17 Cup is a match play challenge between Eagle Harbor, Fleming Island and Magnolia Point golf clubs. Each club has a 12 member team consisting of 10 amateurs and 2 golf professionals that compete over this three day tournament. These matches were started back in 2005 and since then Eagle Harbor has five wins, Magnolia Pointe has four wins and Fleming Island has one win.
Starting in September!
Spaghetti Night
EVERY Tuesday!
5 - 8 p.m. | $5 | Talons

Click here for complete details!
Calling All Lifeguards!
Eagle Harbor Recreation and Aquatics Department is currently hiring eligible Lifeguards.
Click here for complete details

AUGUST NEWSLETTER
Click here to download the August newsletter!

2014 Two-Person Club Championship results are up!
Click here to view!

Click here to view pictures
of the masterpieces created at our Toddler Painting Party!

___________________
UPCOMING EVENTS

To view a list of all Upcoming Events, click here!
___________________
RESIDENT GOLF RATES
Did you know that Eagle Harbor residents
get a discount on golf at the Club?

Monday - Sunday after 2 p.m.: $25+tax
(Not valid during tournaments or events.
Tee times are subject to availability.)

PUBLIC GOLF RATES
Monday-Thursday before 12pm: $39 +tax
Monday-Thursday from 12-3pm: $35 +tax

Monday-Thursday after 3pm: $29 +tax
Friday-Sunday & Golf Holidays before 12pm: $49 +tax
Friday-Sunday & Golf Holidays from 12-3 pm: $35 +tax
Friday-Sunday & Golf Holidays after 3 pm: $29 +tax
Call (904) 269-9300 to book your tee time!
___________________

EAGLE HARBOR IS NOW ON FACEBOOK & TWITTER!
"Like" and Follow our Official Pages Today!


__________________

STAY IN THE KNOW!
Want to know what's going on this month?
Click "
Calendar
" above! All of this month's special
events are highlighted in tan. Or, point your mouse
to Swim & Recreation > Upcoming Events!